Unlock Your Data's Potential with FME Desktop
It all starts with FME Desktop
FME Desktop automates data integration, conversion and processing, overcoming any format, system or application compatibility issue. FME Desktop is the authoring component of the FME platform and consists of two key applications FME Workbench and FME Data Inspector.
An Overview of FME Workbench
FME Workbench is where you configure and run your workspace. Workspaces (or files) define the parameters of your data translation. A workspace will include at least one reader to pull data in, transformers to manipulate data, and at least one writer to output data. Workspaces can be combined to create workflows.
The smart, easy–to-use point and click graphical interface of FME Workbench enables you to build custom workflows, reviewing your progress as you go.

Navigator: Provides a list of all workspace objects including readers, writers, transformers, and specific parameters.

Main Window (Canvas): Where you build your workspace by adding a data source, transformers, and output data type.

Translation Log: As a workspace runs, this pane updates to indicate the current status and the end result.

Visual Preview: Displays 2D, 3D, or tabular data. View the data from your reader, writer, or at any transformation point.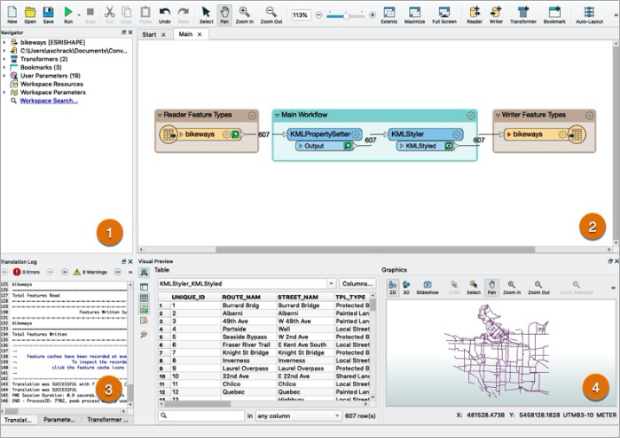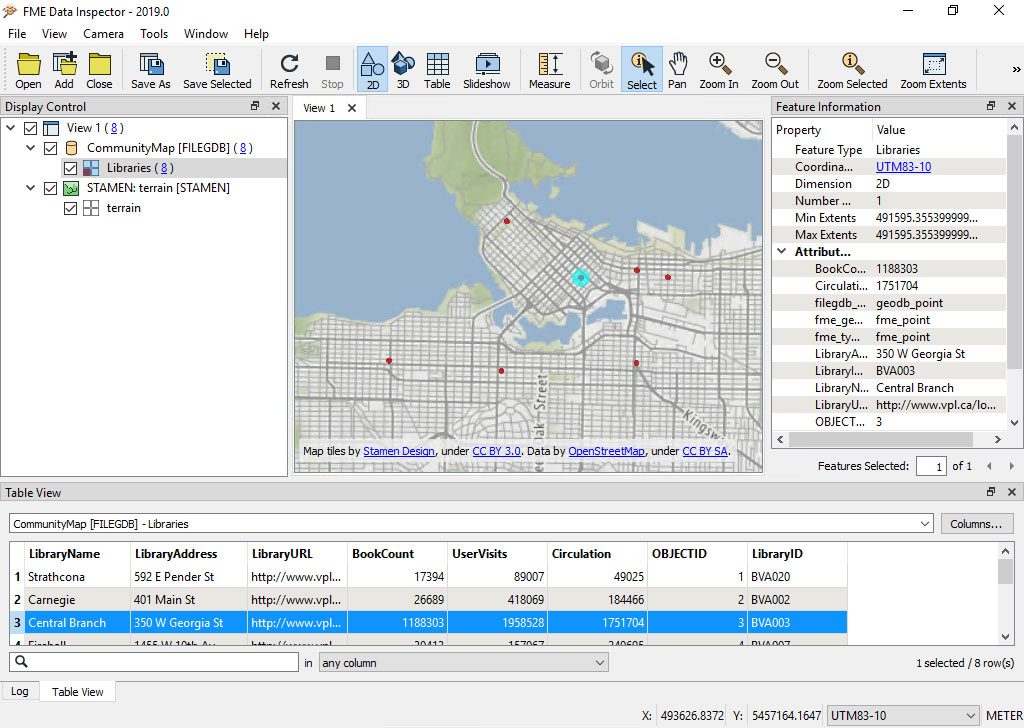 An Overview of FME Data Inspector
Directly linked to FME Workbench, FME Data Inspector enables you to inspect and view your data before, after or during your workflow build. You can choose to view your data in 2D mode, 3D mode and in a table view. A number of different aspects of the data can be inspected including; format, schema, geometry, symbology, attributes, quantity and output.
FME Desktop supports Python and R giving you the flexibility to extend your workflows whether they be simple data conversions or complex integrations. Free your data from disparate sources, manual handling and legacy systems, empowering your team, and your decision making.
How Locus Can Help you Get Started

Free FME Intro
Book a obligation free chat, product demo and receive a complimentary FME trial licence

Consultancy
Review existing data handling processes and infrastructure
Work with you to implement an FME data integration solution design and architecture

On-Demand Support
Project based deliverables and deadlines often demand extra support. Talk to Locus about your short (or longer) term FME support needs

FME Certified Training
In-person, virtualized, standard or custom FME Server/FME Cloud training
2-day FME Desktop, FME Server, FME Desktop Advanced training courses delivered in a classroom environment (or virtually) by a Locus FME Certified Trainer
How Locus Can Help you Get Started

Free FME Intro
Book a obligation free chat, product demo and receive a complimentary FME trial licence

Consultancy
Review existing data handling processes and infrastructure
Work with you to implement an FME data integration solution design and architecture

On-Demand Support
Project based deliverables and deadlines often demand extra support. Talk to Locus about your short (or longer) term FME support needs

FME Certified Training
In-person, virtualized, standard or custom FME Server/FME Cloud training
2-day FME Desktop, FME Server, FME Desktop Advanced training courses delivered in a classroom environment (or virtually) by a Locus FME Certified Trainer