The latest FME release delivers some exciting new and improved features that will continue your organisation's ability to enhance collaboration, improve data quality and maximise resource allocation – let's jump straight in and take a look!
FME Form
FME Form Redesigned Home Screen
FME Form has a redesigned home screen that better utilises screen real estate including listing a table of workspaces and the ability to favourite (star) your workspaces delivering easy oversight and the option to pin your most used workspaces. A thumbnail of your workspace will also appear when you hover over the workspace table (if workspace is saved as 2022 version). Also added is the capability to download a workspace from FME Flow – right from the home screen!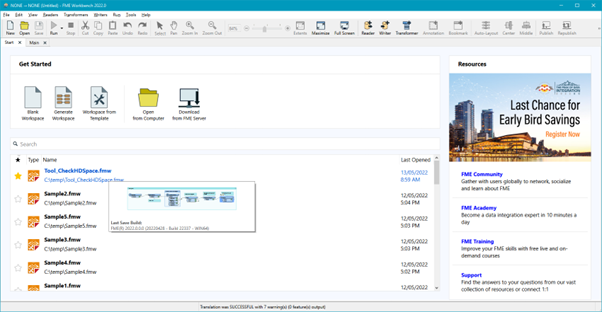 ---
Compare and Merge Workspaces
A helpful feature for collaborating teams, the compare and merge feature allows you to visually compare and merge two workspaces. This enables you to view any changes between the workspaces displaying added, deleted or modified parts clearly colour coded. Differences that are displayed include readers, writers, transformers, connections, user parameters and more.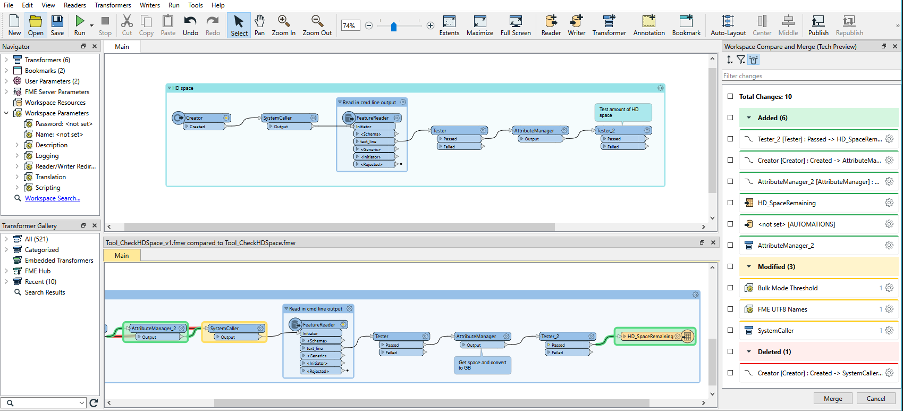 ---
Interactive Log Window
The transformation log window has been redesigned to a table view and includes a transformer column. Using the hyperlinked transformer names you can quickly zoom to the transformer that the error relates to.

---
New and Improved Transformer Keys
Two new transformers are available in the 2022.0 release; SchemaScanner (new and improved transformer compared to the 2021 release) and the SolidDissolver. The SchemaScanner scans the schema of a dataset producing a list attribute of all the attributes and data types. Useful in a workspace to help detect schema drift creating or set schemas dynamically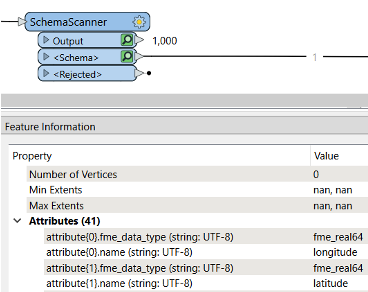 ---
The SolidDissolver is now a dedicated transformer in 2022.0 (previously on FME Hub) and dissolves solid geometries, removing common boundaries of smaller solids to create larger solids. And it runs up to 40x faster than previous workarounds (FME Hub and clipper transformers). Some other specific transformer improvements have been made in this release, for example Bulk Mode Support has been added to many more transformers and the Tester, Tiler, and Clipper transformers have all increased in speed since FME 2021.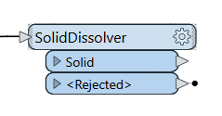 ---
Other Desktop Enhancements
EsriReprojector: contains an updated parameters interface and supports reprojection of vertical and time dependant coordinate systems using the new ESRI Projection Engine Library
UPSERT – update an existing record or insert if it doesn't exist. Saving time and reducing workflow complexity with support for in PostgreSQL, PostGIS, PostGIS Raster, SpatiaLite, SQLite (with more to come in later releases)
New Formats:

SpatiaLite – single SpatiaLite format in FME replaces the existing related formats, SpatiaLite (GDAL) and SpatiaLite (FDO)

Unfolded Data Reader/Writer and FME Hub Package

Truevision TGA (TARGA) Reader

OGC CSW (Catalogue Service for the Web) Reader

SkySQL Reader/Writer via MariaDB Cloud Database

COG (Cloud Optimized GeoTIFF) Reader/Writer

Precisely Background maps – need an API key from Precisly and use their background maps
FME Flow
Flexible Automation at Scale
More metrics have been added to FME Flow in the 2022.0 release to help optimise your deployment and maximise engine use. With the Server Analytics menu, view graphs of your deployment's historical loads, including Job Throughput, helping administrators ensure that your server resources are being allocated to your most important tasks.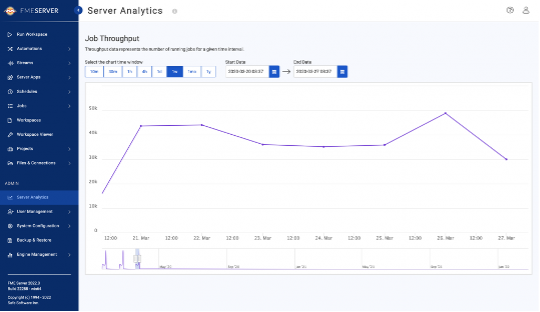 ---
FME Flow Workspace App User Identities
FME Flow admins and authors can now view who has accessed and run an authenticated Workspace App by viewing usage data, track number of users overtime and see general usage trends promoting stress-free troubleshooting and the ability to send communications.

---
FME Flow Security
User authentication via SAML 2.0 is now available. Users can log in using their credentials that are managed by your organisations existing authentication service rather than using a separate username and password.
To experience all these new features (and many more) download FME 2022.0