With the release of 2019.1 on both FME Form and Server some impressive new enhancements deliver visual and performance based gains.
What's new in 2019?
FME Flow Automations: Released in 2019.0, Automations are a revolutionary new tool in FME Flow where you can use a graphical builder to create event based workflows. You can build workflows by defining triggers and actions, such as receiving an email, watching a directory or using a schedule. Automations are revolutionary because you can build workflows that leverage all the power of FME Flow, in an easy to use drag and drop interface.
Visual Preview: This feature allows you to preview your data from within a dockable pane inside FME Workbench, without the need to open a data inspector window. Our users find this particularly helpful when working with tricky logic and minor tweaks to their workspace, and definitely makes building and debugging your workspaces more efficient.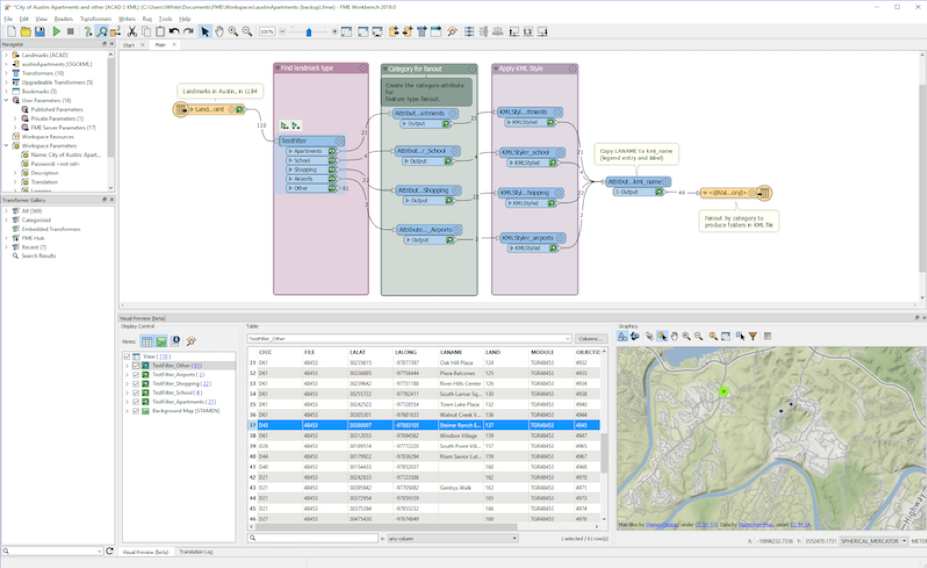 Performance Enhancements: With all FME releases there are some enhancements to performance, but this version in particular brought some really great improvements. Shapefiles have had a redevelopment to become incredibly fast and efficient, which is great news for the most popularly used format. The Dissolver transformer has also been seriously enhanced, running as much as 75x faster than before.
New Formats: As always the number of formats supported in FME has increased, with this year the number reaching more than 450. Of note is a new native Revit reader, where you can read your Revit files directly without needing to use RVZ intermediate files. Some users will also be interested that there is now a 12d Reader released in beta, with expected support in FME 2020.
More about Locus …Locus is a team of business practitioners and FME technical experts ready to help you maximise the value of your business through better data management. As a Safe Software Platinum Partner and Value Added Reseller with offices in New Zealand and Australia, we hold the unique position of being engaged solely in the sale, support and servicing of FME products; this is our competitive advantage.
More about FME…Built by Safe Software and used by over 20,000 organisations worldwide, FME is a data translation and transformation tool for solving problems of data interoperability, without the need for coding. With support for 400+ formats and applications, FME is the integration platform that converts, transforms and automates data whenever and however it's needed.